How to create a powerful photo series. Through pictures, you can express powerful sentiments and evoke meaningful emotions. Discover how to craft a captivating photo series with our helpful tips in this article.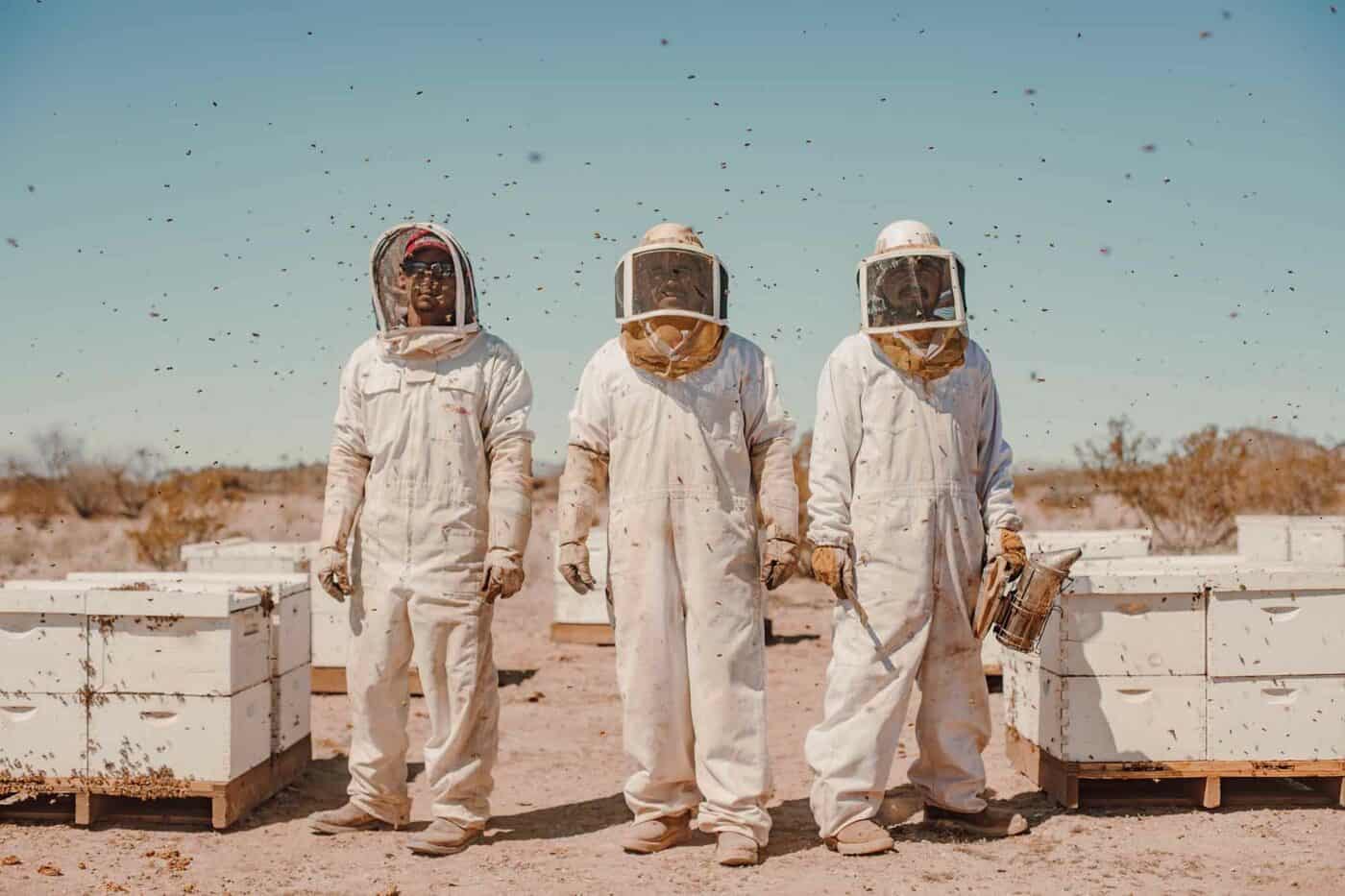 Looking for photo story ideas? Any photo always has a more substantial impact when it's embedded in a larger project. That's why it makes sense to think photographically in terms of more than just individual images. You can also work on a whole series of photos instead because a well-crafted photo series can be powerful and emotionally moving. It can tell an entire story through a visual sequence. And it can make complicated topics understandable. You can find exciting photo series in various fields – in newspapers and magazines, but also in PR and even in science.

If you want to work on a photography project, it requires careful planning, creativity, and solid execution. In this article, professors of the programme of study Visual Journalism and Documentary Photography share creative advice for a meaningful approach. Whether you need to photograph a series for art class, are working on your application portfolio, or are researching for the school newspaper, this post will give you valuable tips and tricks for your photo story!
1. Finding a topic. What makes a good story? Tips for preliminary research and finding photo ideas.
2. Taking photos. With the camera on site – and now? Dealing with light and shadow, colour and how to avoid tunnel vision.
3. Photo culling and photo editing. Where to put all the pictures? Recommendations for editing and manipulating your photo series.
4. Conclusion: The implementation from the idea to the finished photo project – here, all steps are summarized once again.
1. Finding a subject for a photo series
It would be best if you started by gathering ideas. You may find a topic that speaks to you personally or offers an interesting angle. It is helpful to research what other photographers have done in the past, look at photography books or successful photography websites, and study how the images were composed. But it's also a good idea to look beyond photography: Art, music, and literature can also inspire your photo series.
Delving deeper: What is the difference between photo series, photo essay and photo reportage?
The term "photo series" is often used as a synonym for "photo project," including in this post. In the narrower sense, a photo series is understood as a series of images that are similar in structure (for example, in terms of perspective, distance, light, and colours). Other photographic narrative forms include the photo essay and photo reportage. The difference is that these two forms are more about a change of rhythm and distance. A reportage has a beginning and an end (an example is the photo reportage by Shirin Abedi on this page). With a photo essay, on the other hand, each photo typically tells its story in line with an overarching theme (as an example, you can find Nanna Heitmann's photo essay on this page).
Photo stories by students in the Visual Journalism and Documentary Photography programme are also an ideal starting point. Students have created numerous award-winning photography projects that capture unique moments, cultures, and stories through visual storytelling. The projects have won the World Press Photo Award and the Leica Oskar Barnack Award, among others. Professor Christoph Bangert, who used to travel the world as a photographer for the New York Times, gives the following tip: "It's important to find a subject that doesn't just interest you. Topics need some social or societal relevance." If you have an idea, you can discuss it with your circle of friends, for example. Perhaps there is a particular aspect that is especially exciting?

However, finding a topic for a photo project that feels relevant is often difficult. Karen Fromm, professor and art historian, thinks about this: "To find out whether a topic has social relevance, there is certainly no one ideal evaluation procedure. The relevance of a topic can also change depending on context and time. Journalism has developed its own decision-making routines for determining relevance, often referred to as newsworthiness." Prof. Karen Fromm has therefore designed a checklist of questions you can ask yourself when brainstorming ideas for your photo series.
Checklist: Relevance of a photo series
1. Does your topic have significance for the public? For a specific target group? For a larger group of people?
2. Do the events or topics you want to narrate about have a significant impact, e.g. on a region, many people, etc.?
3. Does the topic have a current reference? Does it have an aspect of novelty?
4. Does the topic generate attention for some grievance?
5. Does the topic provide orientational knowledge? Does it clarify the context or the interrelation of an issue? Does it convey background information?
Furthermore, Prof. Karen Fromm recommends always asking yourself the classic W-questions for your topic idea: Who? What? When? Where? Why? How? What for? In any case, it always matters to her that you should base the idea for your photo series on facts and data that can be experienced and verified. Be guided by the criteria of accuracy, impartiality, and independence! A vivid example of a photo story with social relevance is the work "May I have this dance?" by Shirin Abedi. For this, she accompanied ballet dancers in Iran. The project is important because it is not just about ballet. Shirin's pictures tell us about young women who want to develop in a system that despises women.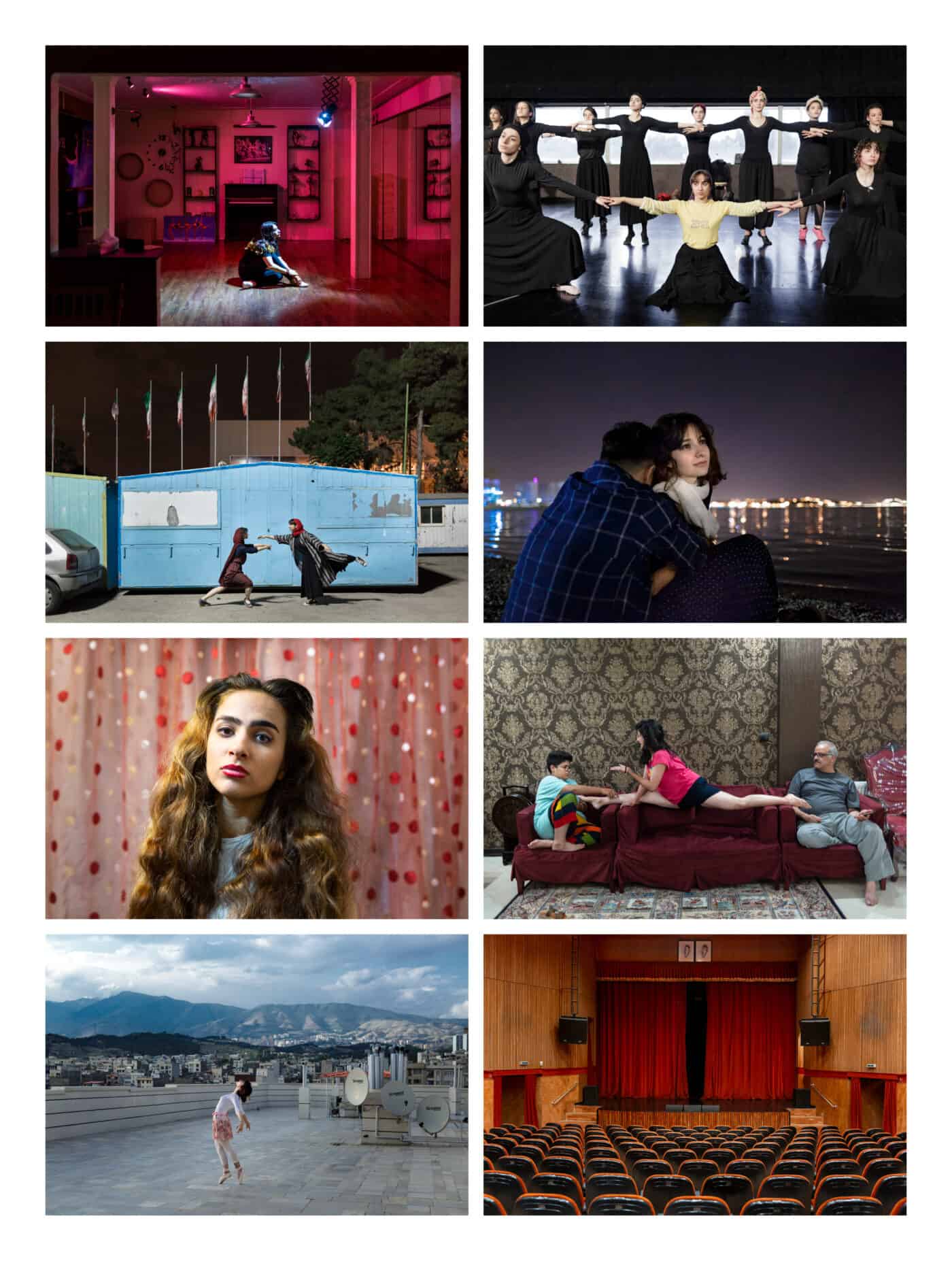 Of course, such investigations abroad are costly and require a lot of experience. That's why finding a subject at your location for your photo series is advisable. It's best if you don't have to go far from home. Christoph Bangert advises: "It is always better to go from the big to the small. It's best to start by finding just one protagonist." For example, Nora Börding accompanied the former forester Gerd Klamer for the Leipziger Volkszeitung. He walked 6000 kilometres through Germany to draw attention to the unfortunate situation of the domestic forests. Nora Börding tells a remarkable story about the fight for nature conservation with this photo series on a small scale.

A particular place may also yield an exciting subject. Former student Helena Lea Manhartsberger reports on a Viennese boxing club in her work "Fight Club". This club functions as an intercultural meeting place between hostile people from Afghanistan and Chechnya. Her photo series also visualizes a more significant theme in a simple frame. Often, however, the most difficult challenge is to find not only a topic, but also a protagonist. Christoph Bangert recounts his experience: "It always helps to have a large circle of acquaintances. There's always that friend, a friend who can help you along." Apart from that, Christoph Bangert thinks it is vital to explain honestly to people what you are up to. "Take your responsibility seriously," he advises. And, "Be nice. That's the most important thing."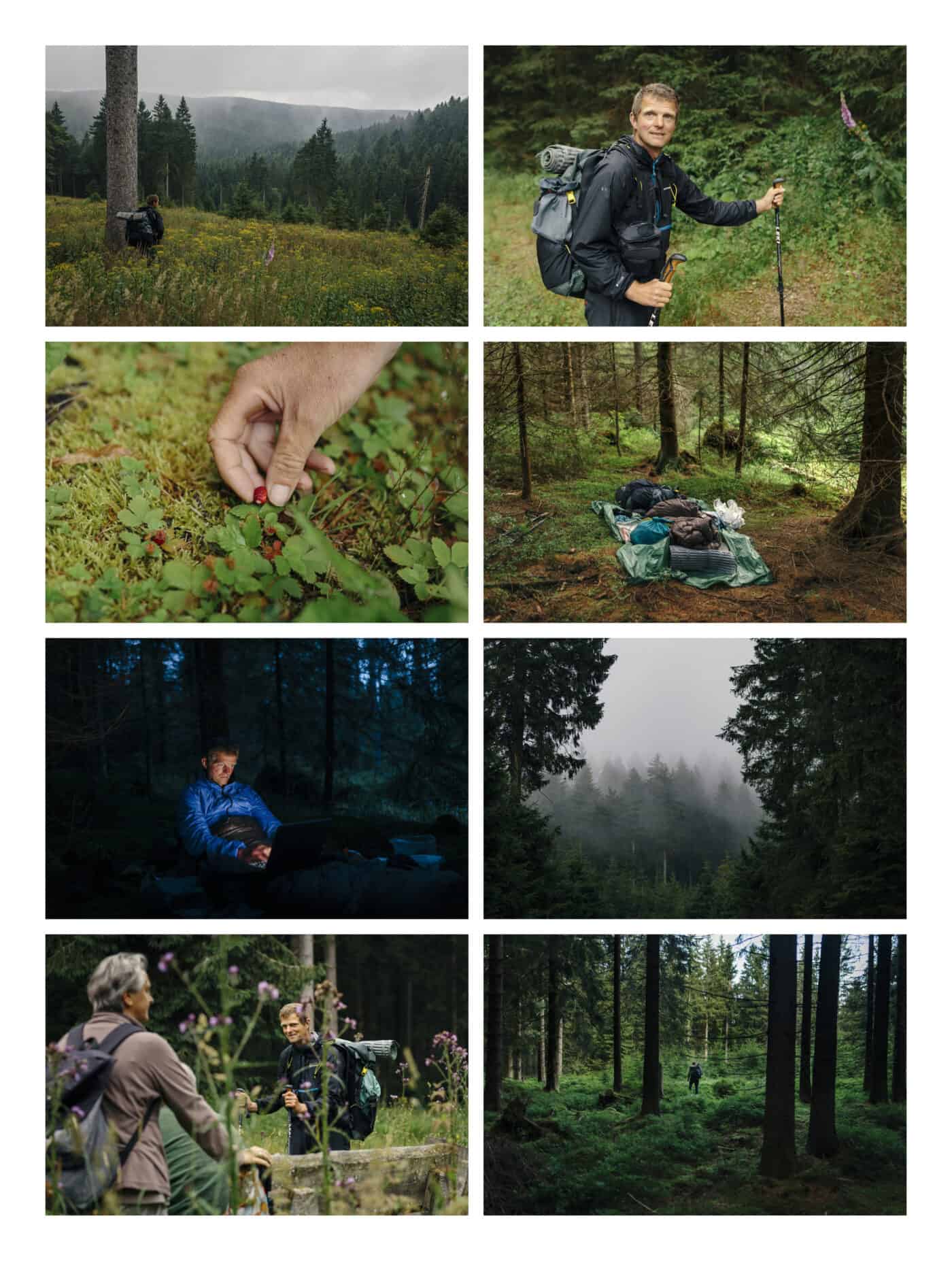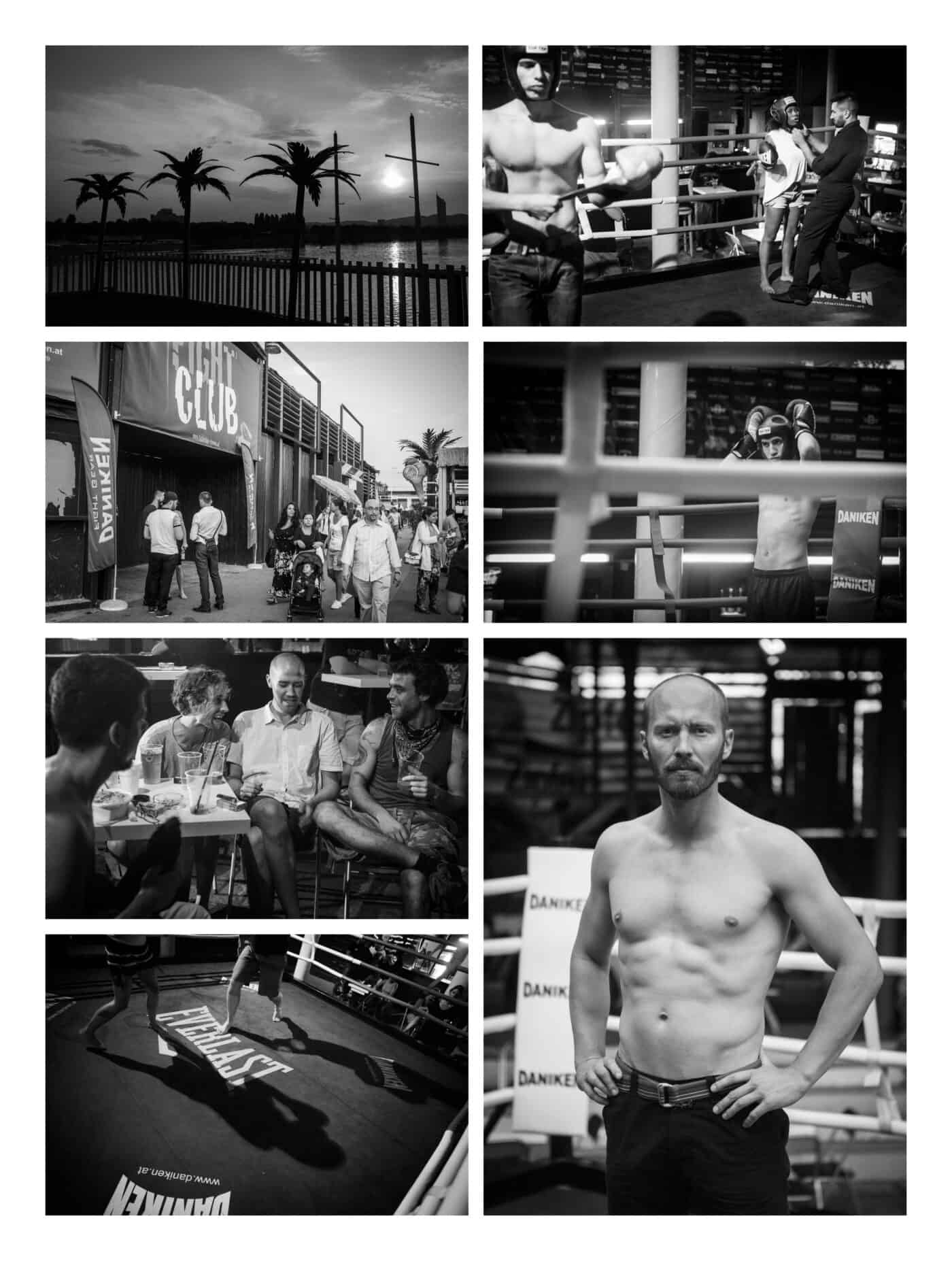 2. Photographing a series
The indispensable part when creating a photo series is, of course, taking pictures. For Prof. Karen Fromm this is – among other aspects – about finding a suitable visual language for a topic. "It's not just about developing a visual signature that people recognize you for." For her, it is much more essential that the stylistic means fit the respective topic. Karen Fromm states, "The imagery becomes part of the meaning of your work."

Experience shows that handling your equipment on location is usually more complicated than expected. It can happen quickly that, in the excitement of the moment, you sometimes set the wrong settings on your camera. For Professor Michael Trippel, who used to be a staff photographer at Stern magazine, one thing is clear: "You must master your camera blindly. You must know how to change to f/4 on the dial, even in the dark."

It makes similar sense for Professor Trippel to be on-site beforehand and look around a bit. He says, "I always look at the light. Is there any incident light or backlight outside that I can use somehow? Or is there only subdued light?" Because light is essential in photography. You can use it to highlight certain aspects of each image. Doing this will help the viewer focus on what's important. One example: The particular lighting situation gives this picture of a heart operation an exceptional intensity. Patrick Junker photographed it during his studies with us.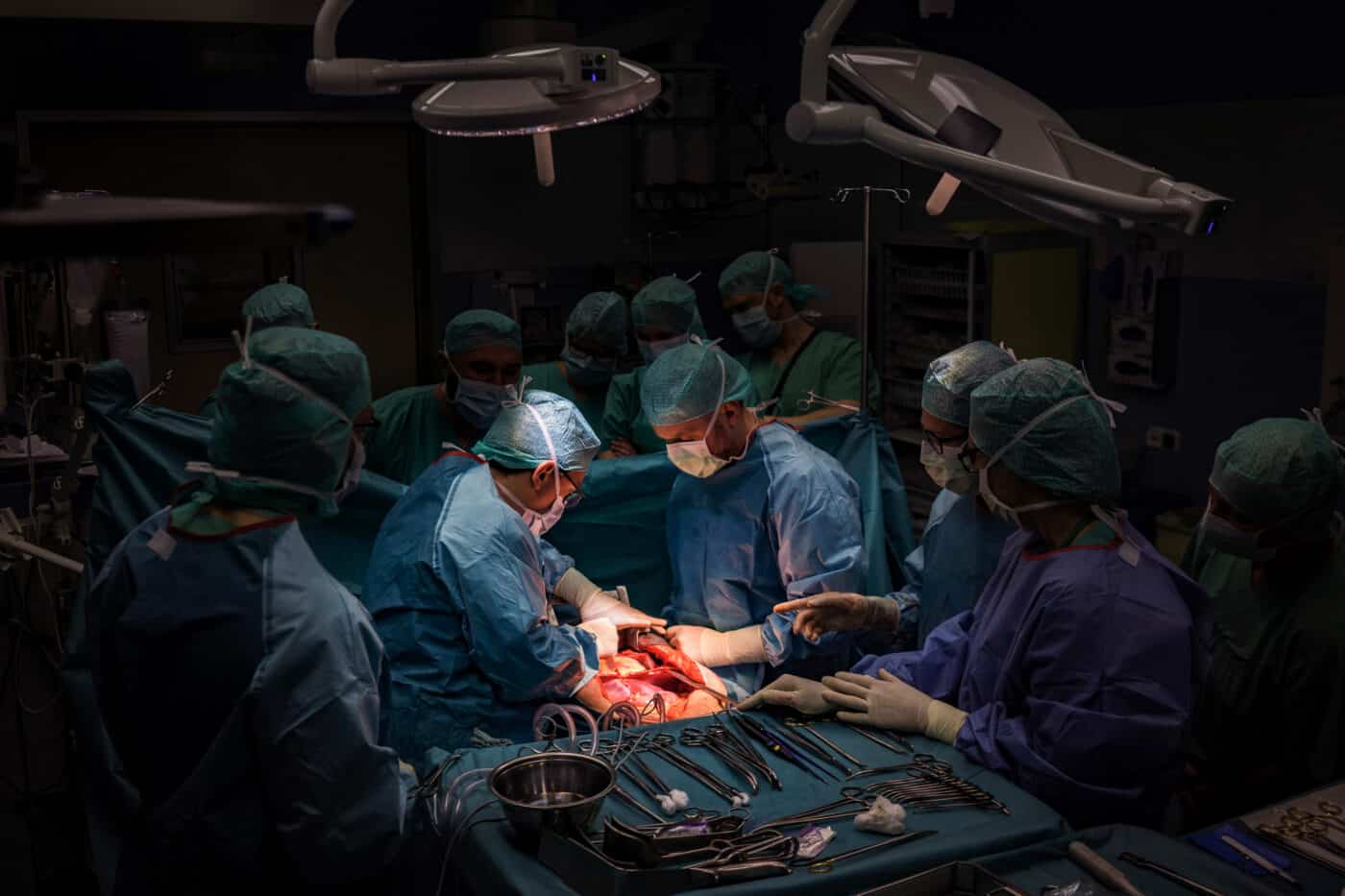 Light often looks best when it doesn't come directly from above. Faces, in particular, look more interesting when lit from the side. Therefore, one of the best sources of light are windows. Through them, you typically have a soft light from the side, even during the day. This provides good lighting, especially for portraits. Ceiling light, on the other hand, often looks much more unattractive and dull. Especially when you visit your protagonists at home, you can work well with window light.

A great example is a portrait from François Klein's "Isaya's Dream" series. The image is characterized by soft, gentle light from the side. For Michael Trippel, from a journalistic standpoint, it is perfectly okay to switch off the ceiling lamp indoors if in doubt. He remembers: "I always photographed with available light and without flash if possible – as long as the picture was still sharp. This works up to 1/30th of a second offhand."

You can also influence the lighting mood of your images by selecting the time of day. For example, student Jonas Kako photographed a piece on the drying up of the Colorado River. To achieve this, he frequently travelled through desert areas in the USA. The light there during the day is excessively bright and harsh – for photography, this is usually quite unfavourable. Jonas Kako, therefore, decided to shoot mainly in the morning and evening. The light then comes from a lower angle and has a warm colour temperature. This provides atmospheric lighting. The two photographers, Volker Crone and Rafael Heygster, traveled through Germany together for DER SPIEGEL magazine in the summer of 2021. In the process, they documented the mood before the federal election. Through the use of flash, their images seem like scenes from a play.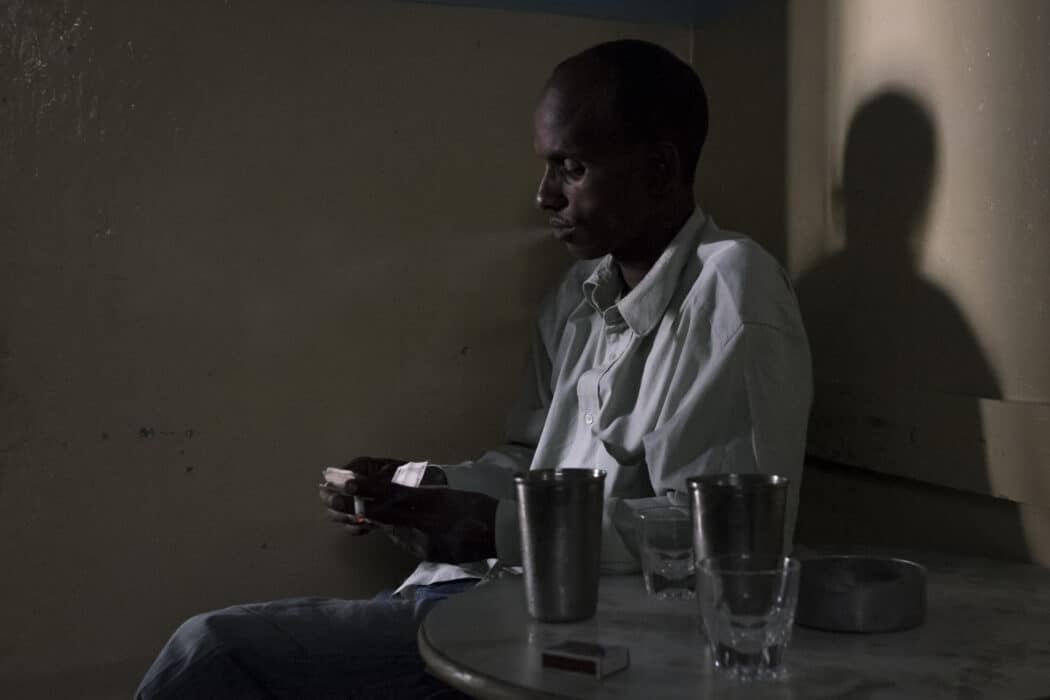 Another critical factor in building a photo series is perspective. This is all about where you stand when you take each picture and the angles you choose for the shots. By playing with different perspectives within a series, you can create variety. This will keep the viewer engaged while allowing you to highlight different aspects of your work. Photographer Daniel Chatard sometimes used panoramic shots in his work on coal mining in North Rhine-Westphalia. This renders the vast proportions of the lignite excavators obvious. He shows the people concerned and their respective homes in more detail. An interesting contrast is created.

For Professor Michael Trippel, however, it is also important not to overdo it when looking for exciting perspectives: "Sometimes I've noticed that I was just constantly bending my knees or climbing up somewhere. Then it was always clear to me that I was just lost." He advises taking a break and breathing deeply to escape the tunnel in such situations. For example, you can pay attention to what you hear or smell. All of this can help you refocus on what's essential. Finally, when creating a photo series, please don't overlook the colour palette: Consistent colour tones across all images will help tie them together better. Of course, it is often difficult to control the colours of a location in a reportage. Nevertheless, numerous photographers deal with colours in their work impressively.

The student Emile Ducke, for example, is a master at using colours skilfully: In his multi-award-winning reportage "Diagnosis," he relied primarily on soft blues and pastel tones. In turn, Andy Happel used intense colour tones in his portrait series on the lives of young people in China. His images are thus reminiscent of the lighting of famous neo-noir films.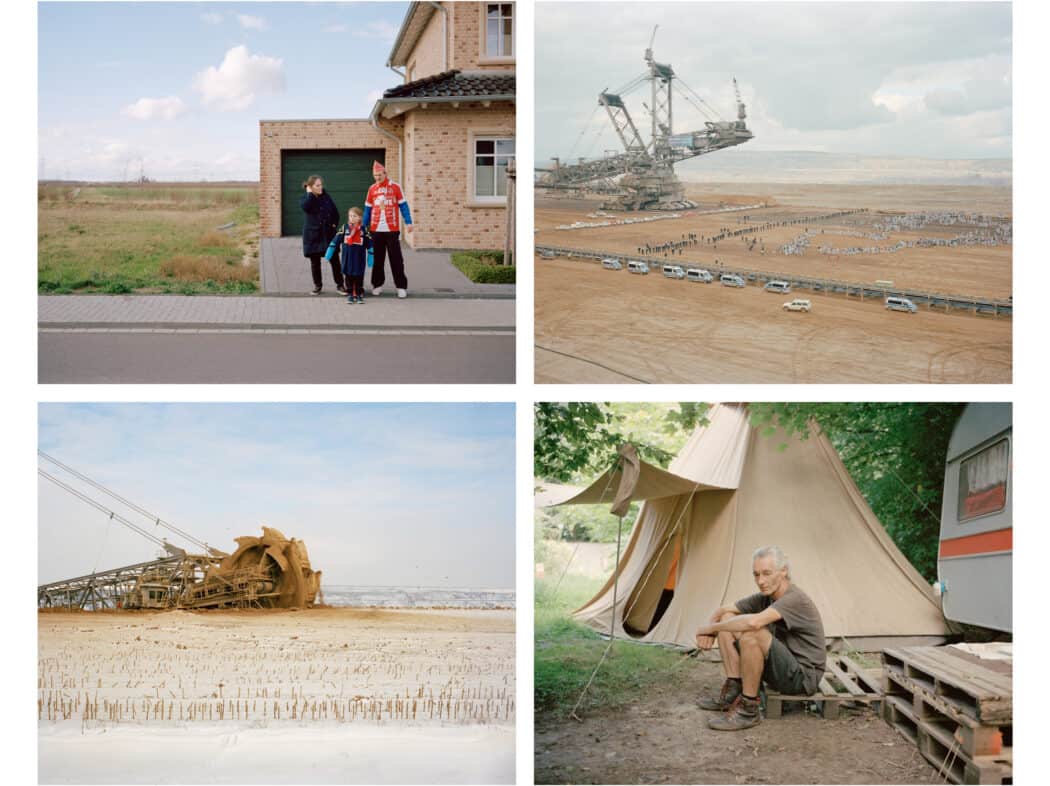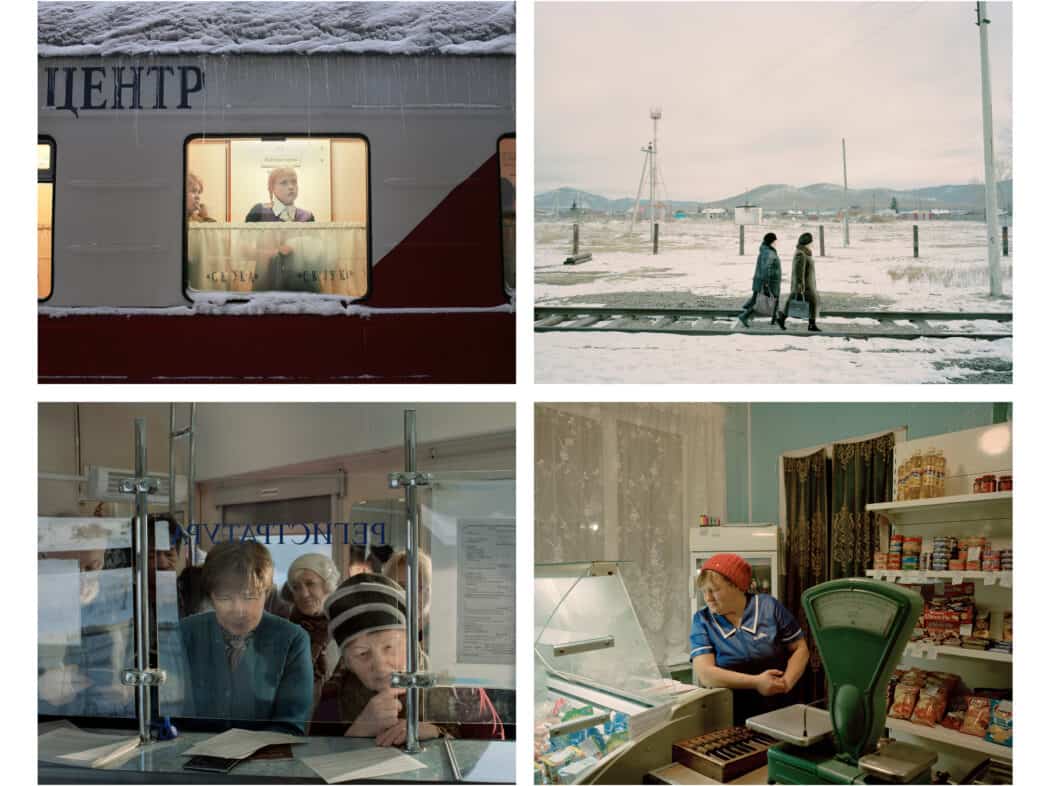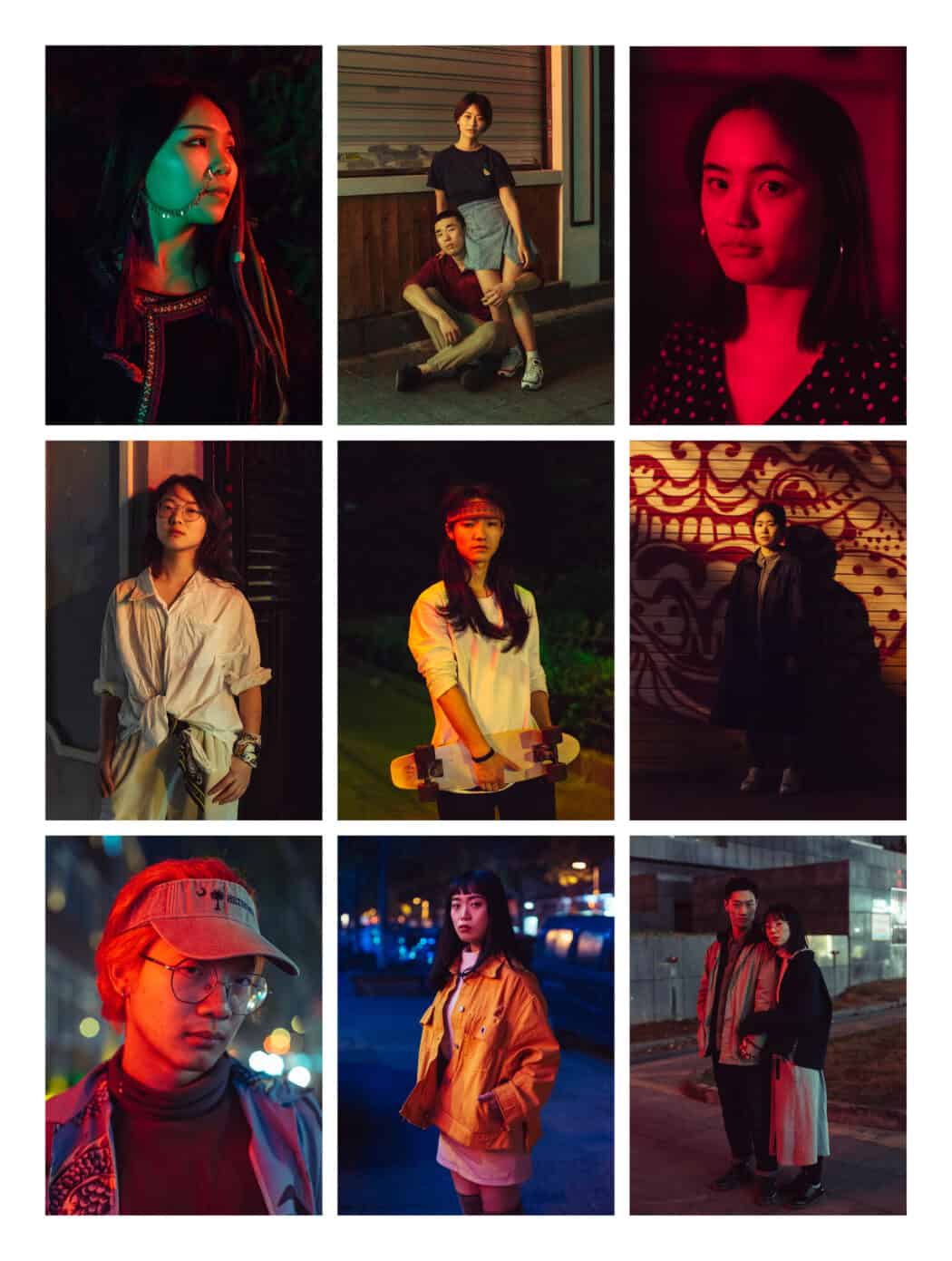 3. Image culling and image editing for a photo series
When after photographing you are back home, the next step is to select and edit the images. Professor Lars Bauernschmitt, managing director of the VISUM photo agency in Hamburg from 1993 to 2008, advises regarding image editing: "Less is more. Avoid the effects. Work with the automatic editing options at the beginning. Trust your image." If you're shooting in RAW, adjust the white balance. This makes the images look more coherent.

Lars Bauernschmitt recommends picking out the ten to twenty best photos after this step and printing them: "You can arrange the pictures according to the chronological order in which something happened." For Lars Bauernschmitt, this is the easiest way to bring order to your pictures. For example, Patrick Junker's touching work follows Gerd Kuck, who suffered from an incurable heart muscle inflammation. Gerd Kuck had to wait more than ten years for a donor's heart. In his final selection of images, Patrick addresses the time before the operation, the operation itself, and the time afterwards.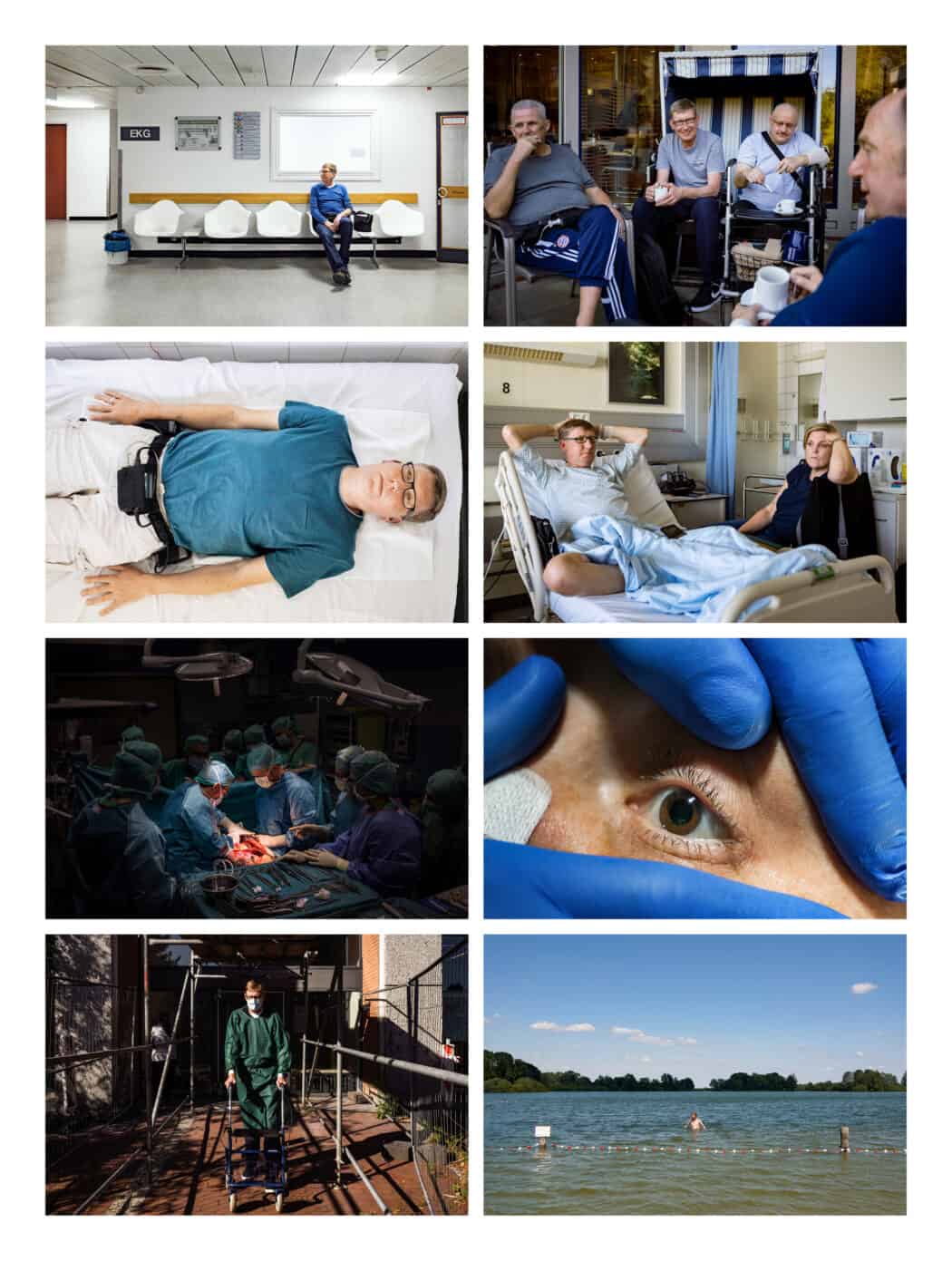 In addition, Lars Bauernschmitt is at pains to stress, "You know what you have photographed. When you look at your pictures, all the memories of taking them come flooding back. You also remember sounds or smells when you look at your pictures. But you must ask yourself: Do my photos convey information to people who weren't there?" He therefore recommends to talk to your friends about your pictures: "Don't give them any explanations about the pictures at first, if possible, but let them formulate their impressions. Do they recognize what you wanted to show? Or do they not see important details – because these are perhaps not well visible in the picture?" In that case, he suggests photographing the situation again – perhaps from a different perspective and distance.

Finally, Lars Bauernschmitt advises to tell your story in as few pictures as possible. Does an image provide a new aspect, or is it just a repeat of something you've already shown? "You can also check this by describing the images in words – talk to yourself," recommends Lars Bauernschmitt. When you've finished everything, share it online! Others can easily access and engage with your work by posting on social media platforms. Use hashtags that relate to the topics to get better exposure online. Doing so will also increase the chances of potential collaborations with other creatives from similar genres! This is always a promising way to find new project ideas.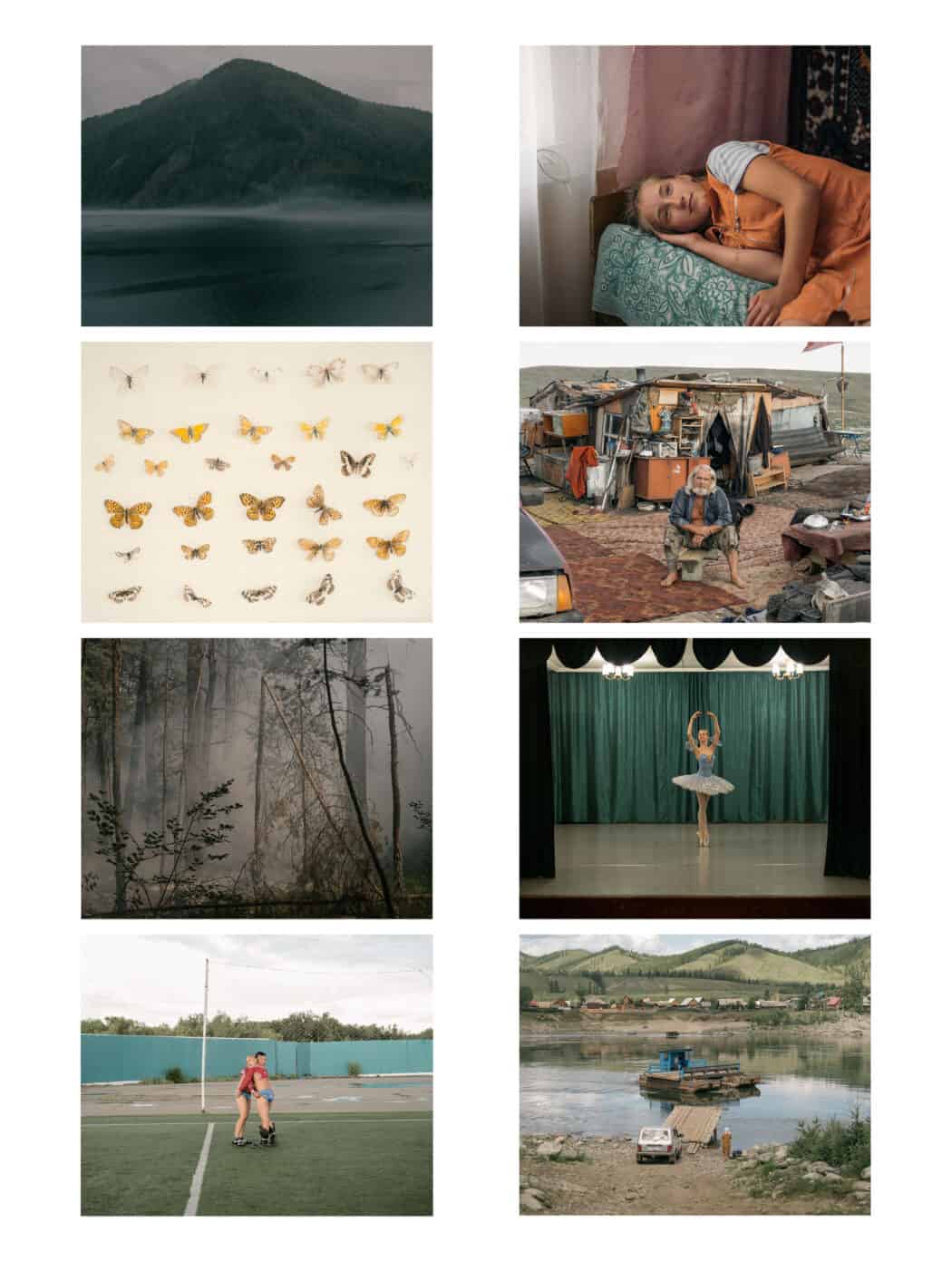 4. Conclusion: the implementation from idea to finished photo project
In conclusion, it is always wise to get inspiration from other media, art and literature when looking for a photo idea. Ideally, you are seeking an idea for a larger project, preferably one with social relevance. Don't make it too complicated; sometimes, the best stories can be found right next door! Maybe someone in your circle of friends has a fascinating hobby or profession? This often lends itself to a good story. So, you can easily find creative photo ideas. After that comes the photography itself. Pay attention to light and shadow, colour and image composition. But you shouldn't overdo it. Stay true to real-life circumstances in your images and do not over-dramatize things.

Finally, you need to select and edit your photos. The process of selection is as important as the image-making itself. Even a strong picture looks weak in a boring sequence. The same goes for image editing: try not to overdo it. The best image editing is typically the one you don't recognize as such. If you follow all these steps, your photo ideas can quickly become entire photo series. Have fun!
We created this post with support from SE Ranking and the assistance of tools from Jasper AI and OpenAI.