Portfolio review photography and video.
Prepare for the aptitude test and get feedback on your portfolio.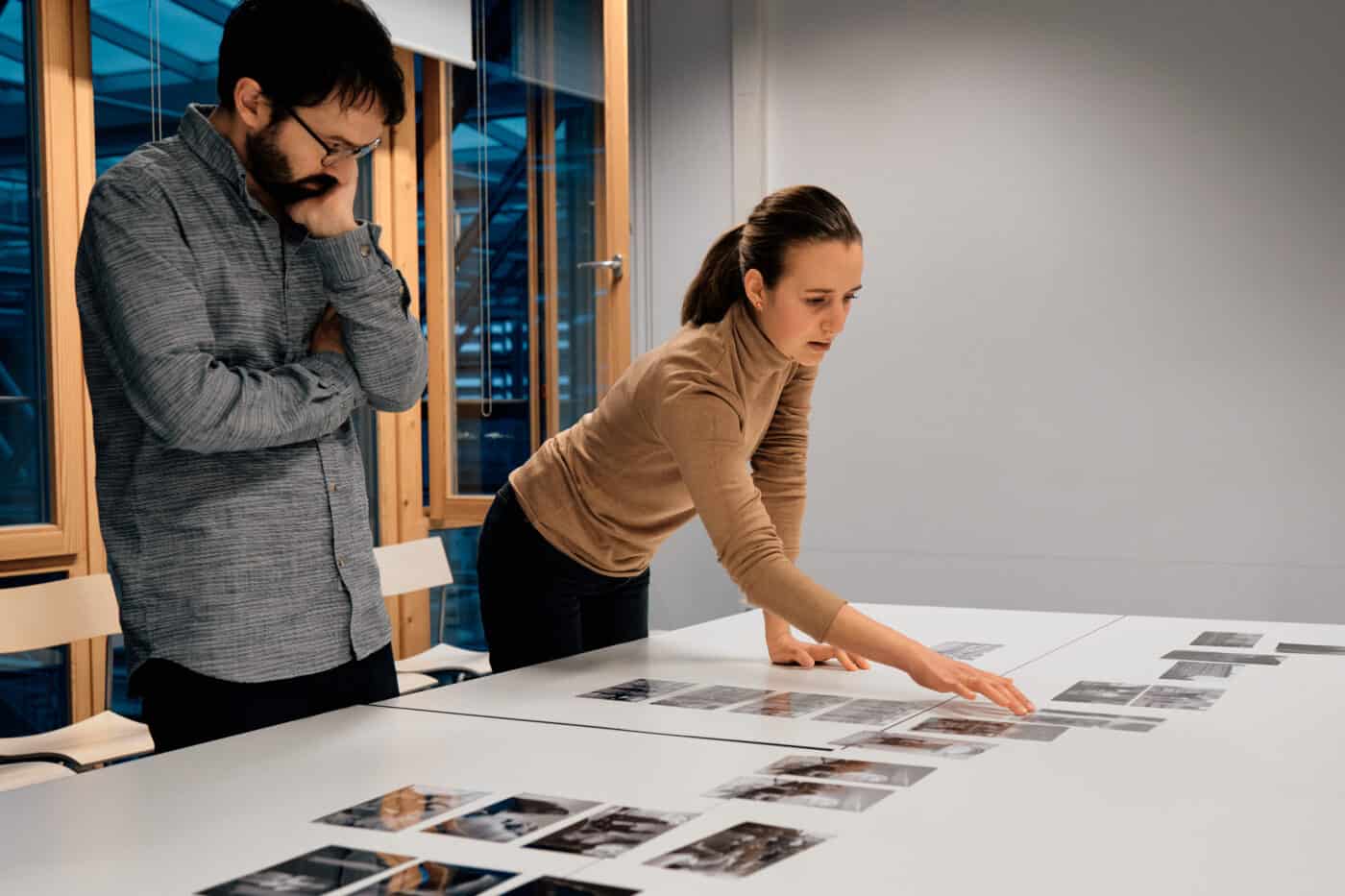 We recommend that all applicants register early for a portfolio review. During the meetings, you will get to know our professors, learn how to optimise your portfolio, and discover which mistakes to avoid. It is not necessary to come with a complete portfolio.
---
The current dates for portfolio consultation:
Wednesday, 30/08/2023 – 10:00 am (online)
Tuesday, 12/09/2023 – 2:00 pm (online)
Tuesday, 26/09/2023 – 2:00 pm (online)
Tuesday, 10/10/2023 – 2:00 pm
Tuesday, 31/10/2023 – 2:00 pm (online)
Tuesday, 28/11/2023 – 2:00 pm

Click on the date to register for free for the respective portfolio review.
---
The portfolio review can be visited several times. We recommend early and regular participation in our portfolio reviews to develop a meaningful application portfolio with the teachers. Participation is, of course, free of charge. The consultation will also answer general questions about the study programme and the portfolio.

The portfolio reviews (unless indicated otherwise in the schedule) take place at Expo-Plaza 2 in 30539 Hannover. Print the images for the portfolio consultation. A4 laser prints or simple photo prints (e.g. from the drug store) are sufficient. In addition to photographs, you may now also show videos, multimedia stories and interactive works. In this case, ask for an appointment with Michael Hauri.

Some portfolio consultations take place digitally via Zoom. Please prepare yourself and your images for the portfolio consultation as follows: Please ensure you can find the images quickly during the session. Please put the pictures in different folders if you want to show different works. The maximum number of images must not exceed 50.

File format: JPG
The longest side should be about 1,800 px.
The size should not exceed 800 KB per image.
To prepare for the portfolio consultation, we recommend you read this post:
Do you still have questions about portfolio consultations? You can reach us at: mappenberatung(at)visualjournalism.de
Your contact partners will be happy to assist you with your personal concerns. However, due to the large number of enquiries, we ask you to first check our FAQ to see if your question may already have been answered.
Hochschule Hannover
Faculty III – Media, Information and Design
Expo Plaza 2
D-30539 Hanover