FAQ. Frequently asked questions about the Visual Journalism and Documentary Photography programme.
We answer the following questions to the best of our knowledge and belief. Despite careful checking, we cannot exclude the possibility of errors. Our answers do not establish any legal claim. If you can't find an answer to your question here, feel free to contact us directly.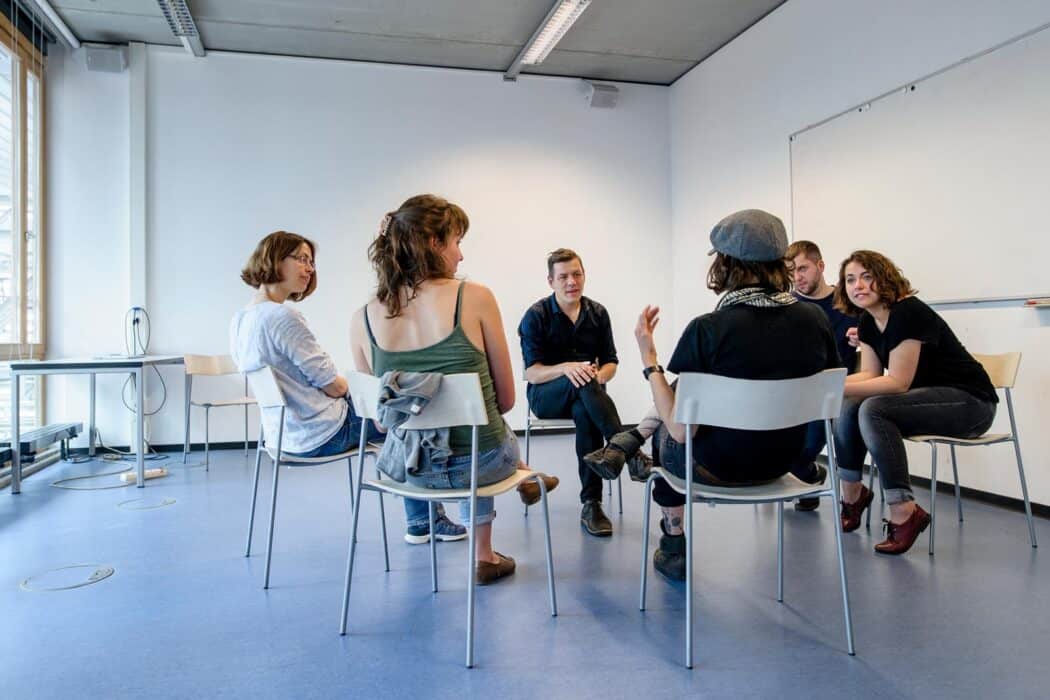 ---
What are the study requirements?
What are the requirements for taking the artistic aptitude test?
1. The applicant must be at least 16 years old.
2. Participation in the artistic aptitude test is possible only upon application. Registrations must be received by March 15 each year, and the application must specify the degree programme for which the artistic aptitude test is to be taken.
3. The application must be accompanied by the following:
— a résumé
— a passport photograph
— a self-made artistic work sample (see section "Portfolio")
— a list with designations for all components of the submitted artistic work sample
— a statement that the applicant made the submitted artistic work sample by himself/herself
4. Based on the submitted artistic work sample, a commission decides in a pre-selection whether the applicant is admitted to the test. Accepted candidates will usually be notified in writing four weeks before the artistic aptitude test date. Enclosed with this letter is a request to bring another sample of artistic work to be presented on the examination date.
Is a preliminary internship required?
Unlike many other photography and design programmes in Germany, we do not require a pre-study internship.
I do not have a diploma that will allow me to enter university. Can I still apply?
At our university, applicants who do not meet one of the requirements for the artistic aptitude test (Fachhochschulreife, Abitur or comparable foreign university entrance qualification) can still take part in the admission process. Please mark "superior artistic ability" on your application for admission. Superior artistic ability is achieved when you score at least 40 out of a possible 45 points in the admission process.
I have a foreign education certificate. What do I have to do?
If you hold foreign educational credentials, they must be verified for university admission regardless of your citizenship. This formal examination is currently being carried out by "UNI-ASSIST", an institution jointly operated by the universities.
What are the language requirements for international students?
For the Visual Journalism and Documentary Photography programme, international students whose native language is not German are subject to lower language requirements than for other programmes, namely the "Deutsche Sprachprüfung für den Hochschulzugang" (DSH 1) or the "Test Deutsch als Fremdsprache" (TestDaF) Level 3 in 4 skills. Private language certificates are not recognized. However, admission or enrolment based on this does not have a binding effect for admission or enrolment in the event of a change of programme at the same university or for admission or enrolment at other universities if other language requirements are specified for this purpose.
Do German-speaking students also have to prove their language skills?
Yes, the following requirements apply to all students: After the first study period (semesters 1-3), you must demonstrate sufficient knowledge of English at level B2 of the Common European Framework of Reference.
The following proof will be accepted:
a) Presentation of a certificate of achievement for (at least) the course English 7 (B2 CEFR) from the Z3-Language Center of the University of Applied Sciences and Arts, Hannover.
b) Presentation of a certificate of achievement for a language course that proves the level B2 and was provided at a college or university. The language certificate must not be older than two years.
c) Presentation of proof of one of the following successfully passed tests: Cambridge English Advanced: level B2, Cambridge English Proficiency: Grade C, IELTS (academic): at least 6.5 points in all areas, TOEFL (iBT): at least 80 points (TOEFL ID Code: 4782), TOEIC: 400-485 points (listening), 385-450 points (reading).
d) Native speakers are exempt from the exams.
I have already successfully completed an artistic aptitude test at another university. Does this also apply to Hannover University of Applied Sciences and Arts?
Our artistic aptitude test is individually tailored to the Visual Journalism and Documentary Photography programme. We do not accept proof of passed artistic examinations from other courses and/or universities.
I have already successfully completed a design degree programme. Can I be exempted from the artistic aptitude test?
Yes, applicants who have successfully completed a design course or a course of study in fine arts or a comparable course of study may apply to be exempted from the artistic examination. The same applies to applicants who have successfully completed at least two semesters in a corresponding or comparable course of study at an artistic or artistic-scientific university. The respective commission decides on the exemption upon request.
Is it possible to receive credit for subjects from a degree programme I have already completed?
Crediting of some seminars is possible if they are professionally consistent.
I have completed an apprenticeship in the creative/communicative/artistic field. Can I get credits for that?
Please contact the examination office of the Hannover University of Applied Sciences and Arts, Faculty III, to find out whether and to what extent your previous training/internship will be recognized. Your contact person is Eugenia Gelwert, eugenia.gelwert@hs-hannover.de
---
When is the next application period?
The application deadline is March 15 each year.
What is the admission procedure?
Register here by March 15, fill out your application and upload your work samples. All further steps are explained in detail on the page. During the application process, you will fill out the application for admission to the admission procedure, print it out and send it with your résumé by mail to Faculty III—Department of Design and Media, Hannover University of Applied Sciences and Arts. Only then can you upload your work samples. You will receive  confirmation when this was successful.
When is the artistic aptitude test, and how long does it last?
The artistic aptitude test is usually held during the third week of May and lasts from 9 am to approximately 5 pm. You will be invited to the entrance exam if you score at least 3 out of a maximum of 15 points for your portfolio. The invitation is issued in writing.
How does the artistic aptitude test work?
On the morning of the artistic aptitude test you will be given a subject to photograph on location on that day. Students of our study programme will assist you in making the printouts.
During the day, you and other applicants will have an interview with the three admissions committee members (colloquium). The total score is determined from the points obtained for the portfolio and the other parts of the entrance examination.
You can reach a maximum of 45 points. With 15 points, you have passed the artistic aptitude test. You will learn your score around 5 pm on the day of the artistic aptitude test.
What criteria are used to award points in the artistic aptitude test?
1. Representational ability: the ability, based on close observation, to reproduce the essence of objects, functions, processes, and situations pictorially.
2. Ability to abstract: the ability to represent the general in the particular, and to carve out essential aspects of the subject using principles of form and design.
3. Imagination: the imaginative invention or combination of formal and substantive pictorial and design relations that extend or exceed mere representation.
4. Selection ability: the ability to select and structure meaningful design work approaches (as a unity of content or function, form, and technique).
5. Intensity: forcefulness and density of the work in content, the strength of commitment, and mental comprehension of the task.
6. Social competence: communication skills, perseverance, and motivation. Ability to further develop personal skills.
7. Interest in the reflection and classification of topics in sociopolitical contexts and the development of corresponding photojournalistic and documentary photographic realizations. Willingness to engage with journalistic forms of presentation beyond photography.
In which size should the homework be printed out?
The prints should be submitted between DIN A4 (approx. 20×30 cm) and DIN A3 (approx. 30×40 cm).
Can I also accomplish the homework assignment in the form of a video?
Yes, instead of a photo series, you can also produce a video. You should be able to play this during the colloquium on your own laptop or tablet with sound. Please respect the maximum length of two minutes.
When will I receive an offer of admission?
On the day of the artistic aptitude test, you will already be told the number of points you have achieved. This will tell you whether you have passed and if you can register for a place with us in the programme. The official confirmation will be sent to you promptly after the colloquium. Only with this written notification the result is official, and you can register—usually by July 15 of each year—for a place. For this, you apply for admission to the study programme at the Service Center – Academic Affairs Hannover University of Applied Sciences and Arts. You will receive a notification of acceptance or rejection by the end of July. During the allocation of places the score is decisive for admission. If several applicants have the same number of points when the last places are allocated, the order is decided by lot.
When do the first seminars start?
Your studies begin with the so-called freshman week. This starts every year in the third week of September.
How long is the proof of artistic ability valid?
The proof of artistic ability is valid for the three enrolment dates following the assessment procedure. So if you would rather not start studying in the year of the artistic aptitude test, you can still register in the following two years until July 15 for the start of the winter semester.
---
What should my portfolio look like?
The portfolio has to be submitted digitally as a PDF. We would like to see the following elements:
•   a letter of motivation*
•   three photo series** or two photo series and one video.
The motivation letter should revolve around the following questions: What do Visual Journalism and Documentary Photography mean to you? Why exactly do you want to study with us? What do you want to achieve in your profession later on? This text should be placed on the first page of the PDF and be about half an A4 page long (max. 2.000 characters).
Depending on the topic, the three photo series should each consist of 10 to 20 photos. Put a text page in which you introduce the topic in three or four sentences before every photo series.
For videos, please note the maximum length of 2 minutes (if you submit longer videos, we will only watch the first 2 minutes). Introduce videos with a still image, a short introductory text, a list of the crew, and a clickable link in the PDF. The link should lead to the video without a password (e.g. on Vimeo, Youtube, Google Drive, or similar).
*The portfolio should show that you are interested in the core profile of our study programme, i.e. visual journalism and documentary photography.
**By photo series, we mean reportage, essay or portrait series. But there should be at least one reportage, and it should be about people somehow or other. The other photo series may also deal with architecture, portraits, landscapes, etc. In any case it is important to us that each work has a thematic frame.
I am unsure about what work to include in my portfolio. What can I do?
We recommend that all interested students attend a portfolio review in good time. We announce the dates on our site.
How much does the portfolio review cost?
Can I participate in a portfolio review more than once?
Yes. You can participate in a portfolio review more than once.
Is it possible to submit the portfolio as a website?
You cannot submit the portfolio itself in the form of a website, it must be a PDF. However, links to websites are possible if, for example, there is a video that cannot be embedded in a PDF.
Can I also show movies in the portfolio?
Yes, we like to see moving image works very much. Note, however, that these should not be longer than two minutes. They must be accessible via a link in the PDF. In addition, you should explain in the PDF what your role has been in the production or what tasks exactly you have performed  (directing, camera, editing, etc…).
---
How long does the course of studies take?
The Visual Journalism and Documentary Photography programme lasts eight semesters (= four years) and includes a minimum 19-week practical phase as well as the bachelor's thesis at the end. Hannover University of Applied Sciences and Arts also offers a two-semester master's programme in Design and Media.
How much is the semester fee?
For first-time enrolees, the semester fee for the winter semester 2022/23 was €404.41. As of the second semester, it is currently €318.31. You can find more info here.
What are part-time studies?
In part-time studies, a maximum of half of the credit points stipulated in the examination regulations can be earned per semester. Part-time students are not entitled to BAföG benefits, but long-term tuition fees are reduced by half for part-time students. Students who take up part-time studies integrate themselves into the normal course of studies and lectures. Part-time studies allow for a regular and transparent extension of the standard period of studying. Part-time studies are only possible up to twice the standard period of studying. There is no such thing as a part-time double degree. Furthermore, please note the possible consequences for child benefit and part-time jobs. Information can be obtained from the appropriate offices. At the University of Applied Sciences and Arts Hannover,this option is only conceded upon application (before the end of the re-registration period).
What is the cost of living in Hannover?
On average, students need about 850 euros per month for their living expenses in Germany. There are regional variations, but Hannover is in the middle range and therefore roughly in line with this average. However, the data are from 2016. Prices are likely to have risen by now. Of course, there are also individual differences in the cost of living, so the figure given should be considered as an approximation only.
What scholarships are available?
Where can I stay?
Finding a flat in Hannover is not always easy. In addition to rooms in shared flats, there is also the possibility of living in a student dormitory. However, the offer is limited. If you are interested, please contact the student union Studentenwerk Hannover as early as possible.
What language is spoken in class?
Both German and English courses are offered.
Can I study abroad for a semester?
The Visual Journalism and Documentary Photography programme is internationally connected. In addition to relationships through the Erasmus programme, our programme of study cooperates with the Danish School of Media and Journalism in Aarhus, the Royal Academy of Art in The Hague, the KASK in Ghent, and the Pathshala South Asian Media Institute in Dhaka, Bangladesh, among others. Students can complete both their internship semester and part of their studies abroad. To prepare optimally for working abroad, Hannover University of Applied Sciences and Arts offers students free language courses.
Where can I get advice?
Programme-specific advice sessions are announced on our website and take place in the Design Center. Occasionally, we also offer online consultations. A visit to these advice sessions is strongly recommended.
In addition, the general student advice service at Hannover University of Applied Sciences and Arts provides all students and prospective students with information on other programmes of study and content of studies. It clarifies all questions concerning studying, such as admission requirements, financing options, and university or subject changes. For more information on general student advice, click here.
---
How can I apply as an exchange student?
Our programme offers a one-semester International Class designed for international exchange students. The International Class is integrated into the existing curriculum of the programme and is taught in English. Some courses are taught by faculty members of the programme and are supplemented with workshops by international photographers and experts. Bachelor students from universities in Europe and outside Europe are invited to apply for the International Class.
Do I have to study at a partner university to participate in the International Class?
We offer some places for so-called free movers so that you do not have to be enrolled at one of our partner institutions.
Your contact partners will be happy to assist you with your personal concerns. However, due to the large number of enquiries, we ask you to first check our FAQ to see if your question may already have been answered.
Dean of Studies, Design and Media department
Application and admission procedure
Hochschule Hannover
Faculty III – Media, Information and Design
Expo Plaza 2
D-30539 Hanover